The Airfreight sector are a key factor in international supply chains, connecting partners from long distance, or when the Time factor is the most important. They are the most dynamic and flexible services – whether you want to transport a single parcel, or a pallet, or different electronic components or spare parts for automotive industries , our experienced airfreight team will offer you the best solution and make sure that you will receive your cargo on time. Our services include also –the processing, customs formalities and door delivery.
Over the years we have developed good relationships with many airlines and international network of agents, resulting in our being able to secure competitive rates for the benefit of our customers and partners , to and from all major cities throughout the world.
Using our consolidation  service from international Airport Vienna and  Frankfurt , combined with our road transportation service to / from Romania, we assure not only the optimal transit time, but also the competitive rates.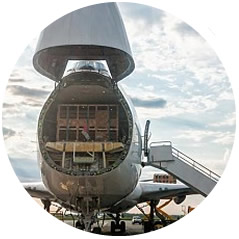 For urgent cargo, we quarantee the first availbale flight for the desired destination and a maximum of 24 hours between airport of departure and airport of arrival. The goods are transited over nights in any Europe international airport.
For more details please contacts our specialists and they will give you the best optimal solutions.
An economical service ,where the priority ist the cost reduction, and the transit time are between 48 and 96h,depending of the airlines or transit countries choose
For those consignments  which are to critical to use any other form of transport,chartering an aircraft could be the solution you need to receiving or sending your urgent shipments in good time.
There is more to arranging a charter than just moving an aircraft from origin to destination, so leave nothing to chance. 
When automotive parts are required to keep the production line running, or any technical part or equipments needs to be urgent delivered to aid a technical problem, we can help.
Based on our last 10 years of automotive experience, We understand the time sensitive nature of the industry and the importance of parts and equipment being in the right place as soon as possible..
From the Antonov AN255 with a payload of 250 tons to the Cessna 406 Titan with a payload of just 1.2 tons, we will provide the aircraft to suit your needs.
Need an Urgent cargo aircraft charter? Speak to one of our dedicated operators  on contact.
Critical or sensitive parts? Urgent documentation, samples or prototypes? Our OBC department will arrange all of the logistical requirements, so that our experienced courier accompanying the time critical consignment door-to-door from collection to delivery.
You can have:
• 24h Service through our in-house service team
• Direct contact to your OBC / Hand Carry agent if needed
• Constant supervision from pick up from check in through to landing, customs and delivery
For more details you please contact our OBC department, and they will give you the best solution.